---
Dong Xuan is a street market spreading over a surface of 600 square meters covering Dong Xuan and Khoai streets. Approximately fifty businesses are operating the forty stands selling food, artifacts, souvenirs and tour packages among others.
Unlike other Hanoi night markets selling agricultural products in Long Bien and Quang Ba, Dong Xuan Night Market has been mainly created for tourists. With its eleven stalls, the brightly lit food zone is the most animated, serving late night guests until early morning.
Dong Xuan Market By night
Here you can find real Hanoi food, as favored by true-blue Hanoians. The dishes might cost a little more than elsewhere but, you have to taste it to believe it, they are truly delicious. A steamy hot dish of Pho cuon (beef wrapped in long wispy strips of rice vermicelli, served with aromatic herbs and spicy sweet-sour fish sauce) costs a mere VND10.000.
You might have your curiosity and appetite titillated as you try to choose from a wide selection of exotic Hanoi dishes: fried frog or fish meat pastes, rice and duck meat soup, fried rice, tiet canh (duck blood uncooked, only if you have a brave heart and strong stomach!), rice vermicelli and beef cooked in the south Vietnamese style and even just beefsteak and bread.
Dong Xuan Market By night
In artifact shops on Dong Xuan Street you will find traditional Dong Ho drawings, Bat Trang ceramics, Binh Da embroideries and laces, and sand paintings, the new craze of Hanoi's young people. For a modest sum of VND2.000 – 9.000 you can choose one of those 'raw' pictures with different designs and patterns.
You peel off the sheet of paper and using the multi-colored sand you are provided with, you paint and create your own masterpiece following a model or 'ad lib' following your own inspiration or fantasy.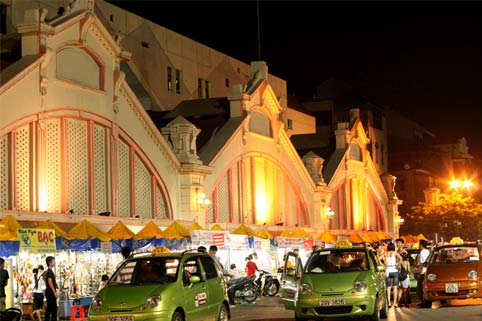 Dong Xuan Market
Like other markets (cho) such as Sapa's Cho Tinh, Nam Dinh's Cho Vieng, Lang Son's Cho Ky Lua and Can Tho's Cho Tay Do, Dong Xuan Night Market has been set up to meet the needs of locals and tourists. Dong Xuan Night Market is only one of Hanoi's many efforts to develop tourism and attract international visitors.
A CD-ROM and two books on Hanoi, and two annual Tourism festivals are planned to open new paths and boost tourism in Hanoi. The Hanoi Service of Communications and Public Works plans to expand and turn Dong Xuan Night Market into a no-vehicle zone to lure more visitors to the place. Two more no-vehicle zones are being delimited round Sword Lake, along Khay, Trong and Le Thai To streets and along Ngang and Dao streets.